Wellcome to the Historical Center of the Mongol Empire! The Mongol Empire was an amazing empire in many ways. Mongol Empire was the largeest empire ever greated within the lifespan pf the one man and it was the Mongols poor fate than the sheer size of it is exactly what would bring the empire to its knees. The mongolians were some of the most intelligent warroirs of the time and yet they were most barbaric as well. they were extremly ruthless but still in many ways they had one of the most advanced cultures of the era.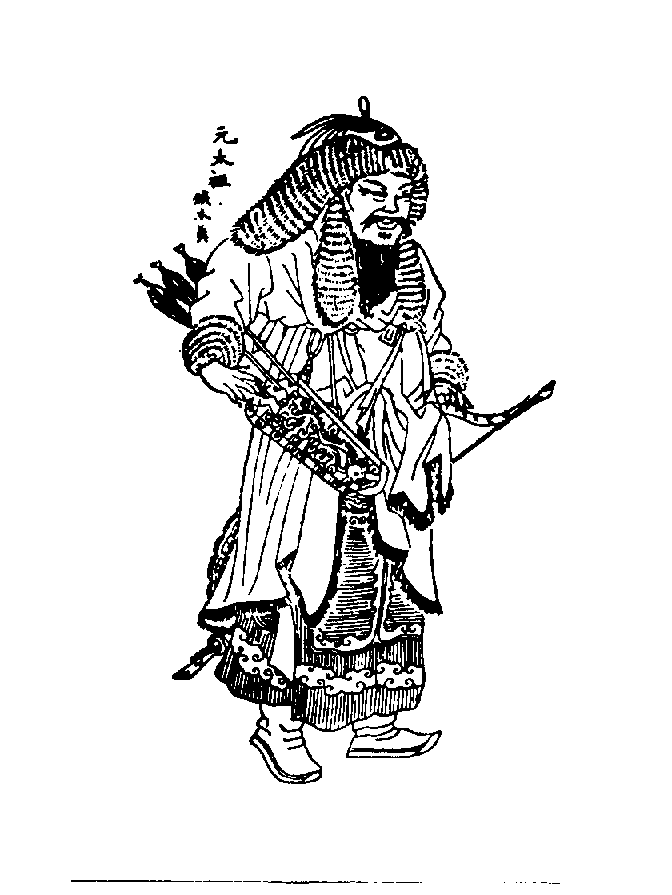 WHO IS THE GENGHIS KHAN(CHINGIS KHAN)?

The twenty-third generation after blue wolf whose destiny Heaven's will, was Temujin who is born into Borjigin clan to his mother Oulen and his father Yesuhei on the bank of the Onon river, in the heart of Mongol. Genghis khan was born in the early 1960's (it has been argues between 1162-1167, but recently agreement been made for 1167),was named Temujin because in the time of his birth, his father had captured a Tatar chieftain of the same name. Legend says that newborn Temujin had a bloodclot in the palm of his hand, an omen that he was destined to be a hero.

In Temujin was a young, his father was poisoned by a grouup of Tatars, and the Kiyat tribe broke up and scattered, abondoning their chief's family and leaving Temujin's mother, Ho'elun, to raise her children alone. Accounts of Temujin golrify him as intelligent, brave, and an adept fighter, even from an early age, and as such potential threat to the leaders of other tribes of the steppe. As a young man, despite extreme hardships, he repeatedly met perils and endured crises through force of character and willpower.

One important accomplishment of Genghis Khan is that he was unified the Mongol nation and established the United Empire of Mongols.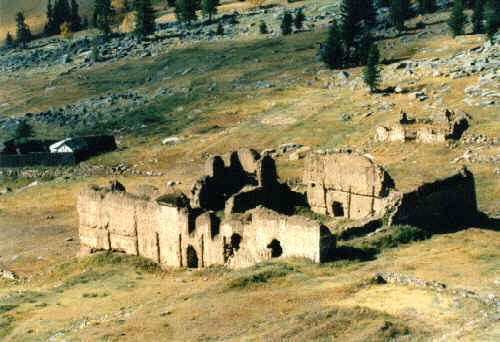 If you want to read this book(mongolian) click on the book.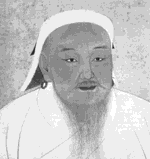 Genghis Khan's family
Genghis Khan came from a family power. His grandfather was Kabul khan who ruled from 1102-1133. His father was Yesugei the Brave, Chief on the Yakka Mongols. His sons are: Zuchi, Tsagaadai, Ogodei, Tului, Guyuk, Berkh and Batu. His grandsons were: Munkh, Khubilai, Hulagu and Arig Bukhe.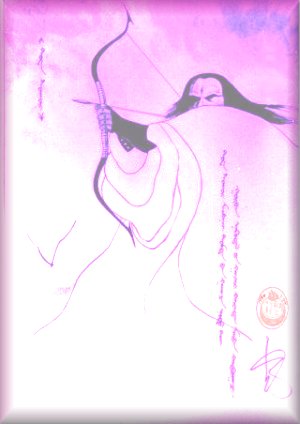 TIMELINE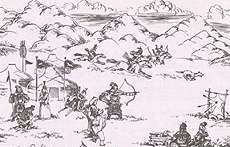 1160-1200
Temujin is born in the 1160s. While still child, his father is killed. By the teens, his daring raids against neighbouting tribes have already impressed the Mongols

1206
Temujin is proclaimed Genghis Khan, ruler of all the Turko-Mongol peoples. Surrounded by his supporters, Khan forges an army. divides his force into units under like minded tribel chieftains, setting in motion an army capable of conquering the sounding world.

1209-1221
Genghis and his army defeated the Tangut kingdom of Xia Xia; the capital of the jin empire. in 1221, a caravan of Khan's traders is exucuted. When a Mongol ambassador seeking justice is killed, a bloodywae ensues with Khan's army slaughtering entire population.

1226-1227

Western Turkistan now belongs to Genghis Khan. He devastates the Xia Xia state. Near the end of the assault on its capital city, Ningxia, an ailing Genghis Khan dies-August 18, 1227. Soldiers transport their dead leader back to Mongolia, killing all those who cross their path. His reamains have still not been found.