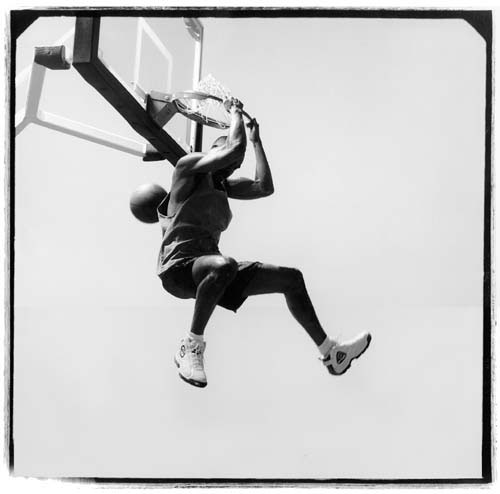 A 6'8" forward with almost unlimited potential, Grant Hill entered the NBA as a highly touted rookie and has exceeded all expectations. He shared Rookie of the Year honors with Jason Kidd in 1994-95, then led the Detroit Pistons in scoring, rebounding and assists in his second pro season. He was the leading vote-getter in the All-Star balloting in both seasons and an All-NBA First Team choice and winner of the IBM Award for all-around contributions to his team's success in 1996-97. The son of former Dallas Cowboys running back Calvin Hill, Grant Hill arrived in the NBA with a reputation not only as a big-time basketball player but also as a classy individual who would represent the next generation of superstars following a standout college career at Duke. Thus far, he has done nothing to dispel that notion. As a freshman and a sophomore he was an integral part of a team that won back-to-back NCAA Championships in 1991 and 1992. The winner of the Henry Iba Award as the nation's best defender in his junior year, he scored a career high 18.0 points per game that season. He was a consensus First-Team All-America selection after his senior year. The Detroit Pistons selected Hill with the third overall pick in the 1994 NBA Draft. The combination of his spectacular play and his humble demeanor quickly endeared Hill to NBA fans, who voted him a starter in the 1995 NBA All-Star Game. He went on to share NBA Rookie of the Year honors with the Mavericks' Jason Kidd after leading the Pistons in scoring, steals and minutes and placing second in assists and rebounds. Following his outstanding 1994-95 debut season, Hill was named to the 1996 Dream Team, which won a gold medal in the 1996 Olympics in Atlanta. Hill's second pro season was even better than his first as he led the league with 10 triple-doubles, ranked among the NBA's top 20 in scoring, rebounding, assists and minutes played and helped the Pistons back into the NBA Playoffs. He continued to improve in 1996-97, leading the league with 13 triple-doubles, raising his scoring average to a career-high 21.4 ppg, earning All-NBA First Team honors and capturing the IBM Award for all-around excellence.
--------------------------------------------------------------------------------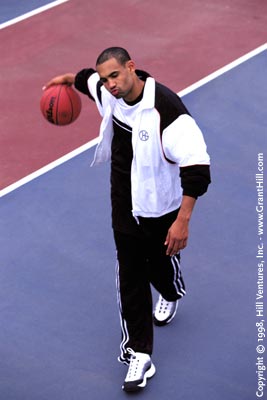 Grant Hill was born on October 5th, 1972 in Dallas Texas. Grant was uniqe from many other basketball players. Grant grew up rich. His father, Calvin Hill, was a running back for the Dallas Cowboys. Grant attended Duke University at the age of 17. He played basketball there. Duke won two chmpionships while Grant was in Duke. One in 1990-91 and one in 1991-92. In the 1994-95 draft Hill was drafted to the Pistons for third pick. After that season he was voted Rookie of the Year along with Sun's Jason Kidd. Grant still flies high. Some people say that he will become the next Michael Jordan.